Swansea City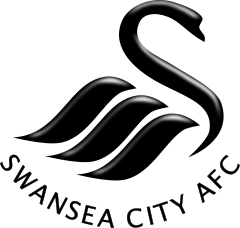 City: Swansea
Stadium: Liberty Stadium
Founded: 1912
Nickname: The Swans, The Jacks,
Swansea City Association Football Club (/ˈswɒnzi ˈsɪti/; Welsh: Clwb Pêl-droed Dinas Abertawe) is a Welsh professional association football club based in the city of Swansea, Wales, who play in the Premier League. Swansea City represent England when playing in European competitions, although they have represented Wales in the past. The club was founded in 1912 as Swansea Town and joined the Football League in 1921. The club changed their name in 1969, when it adopted the name Swansea City to reflect Swansea's new status as a city. Swansea have played their home matches at the Liberty Stadium since 2005, having previously played at the Vetch Field since the club was founded.
In 1981, the club were promoted to the original Football League First Division. It was during the following season they came close to winning the league title, but a decline then set near the season's end before finishing sixth, although a club record. It was from here the club suffered a relegation the season after, returning to the Football League Fourth Division a few seasons later, then narrowly avoided relegation to the Football Conference in 2003. The Swansea City Supporters Society Ltd owns 20% of the club, with their involvement hailed by Supporters Direct as "the most high profile example of the involvement of a supporters' trust in the direct running of a club". The club's subsequent climb from the fourth division of English football to the top division is chronicled in the 2014 film, Jack to a King – The Swansea Story.
In 2011, Swansea were promoted to the Premier League, becoming the first Welsh team to play in it since its formation in 1992. On 24 February 2013, Swansea beat Bradford City 5–0 to win the 2012–13 Football League Cup (the competition's highest ever winning margin for the final), winning the first major trophy in the club's history and qualifying for the 2013–14 UEFA Europa League, where they reached the Last 32 stage but lost over two legs to SSC Napoli.