Norwich City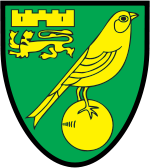 City: Norwich
Stadium: Carrow Road
Founded: 1902
Nickname: The Canaries, Yellows, The Citizens (Pre-1907)
Norwich City Football Club (also known as The Canaries or City) is an English professional football club based in Norwich, Norfolk. Norwich returned to the Premier League in 2015, having first been promoted to the top flight in 1972. Norwich have won the League Cup twice, in 1962 and 1985. The club has never won the top flight, but finished third in 1993.
The club was founded in 1902. Since 1935, Norwich have played their home games at Carrow Road and have a long-standing and fierce rivalry with East Anglian rivals Ipswich Town, with whom they have contested the East Anglian Derby 134 times since 1902.
While much of the support that the club enjoys is local, there are a number of exile fan clubs, notably in London and stretching from Scandinavia to countries further afield such as the United Arab Emirates and Hong Kong. The fans' song, On the Ball, City, is the oldest football song in the world still in use today; the song is in fact older than the club itself having probably been penned for Norwich Teachers or Caley's FC in the 1890s and adapted for Norwich City. Although the first use of the tune and song is disputed, it had been adopted by 1902 and it remains in use today in part if not the whole.