Ipswich Town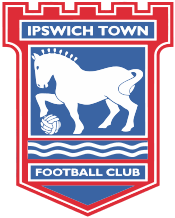 City: Ipswich
Stadium: Portman Road
Founded: 1878
Nickname: The Blues, The Tractor Boys
Ipswich Town Football Club (/ˈɪpswɪtʃ ˈtaʊn/; also known as Ipswich, The Blues, Town, or The Tractor Boys) is an English professional association football team based in Ipswich, Suffolk. As of the 2014–15 season, they play in the Football League Championship, having last appeared in the Premier League in 2001–02.
The club was founded in 1878 but did not turn professional until 1936, and was subsequently elected to join the Football League in 1938. They play their home games at Portman Road in Ipswich. The only fully professional football club in Suffolk, they have a long-standing and fierce rivalry with Norwich City in Norfolk, with whom they have contested the East Anglian derby 139 times since 1902.
Ipswich won the English league title once, in their first season in the top flight in 1961–62, and have twice finished runners-up, in 1980–81 and 1981–82. They won the FA Cup in 1977–78, and the UEFA Cup in 1980–81. They have competed in the top two tiers of English football uninterrupted since 1957–58, currently the longest streak among Championship clubs after Coventry were relegated in the 2011–12 season. They have competed in all three European club competitions, and have never lost at home in European competition, defeating Real Madrid, AC Milan, Internazionale, Lazio and Barcelona, amongst others.