Reading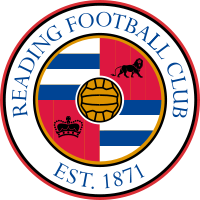 City: Reading
Stadium: Madejski Stadium
Founded: 1871
Nickname: The Royals
Reading Football Club (i/ˈrɛdɪŋ/ RED-ing) is an English professional football club, based in Reading, which plays in the Football League Championship. The club competed in the 2012–13 Premier League season, having gained promotion at the end of the 2011–12 season after winning the Championship, but were relegated after just one season back in the top flight.
Reading are nicknamed The Royals, due to Reading's location in the Royal County of Berkshire, though they were previously known as The Biscuitmen, due to the town's association with Huntley and Palmers. Established in 1871, the club is one of the oldest teams in England, but did not join The Football League until 1920, and had never played in the top tier of English football league system before the 2006–07 season.
The club played at Elm Park for 102 years between 1896 to 1998. The club moved in 1998 to the new Madejski Stadium, which is named after the club's Co chairman Sir John Madejski.
The club holds the record for the number of successive league wins at the start of a season, with a total of 13 wins at the start of the 1985–86 Third Division campaign and also the record for the number of points gained in the professional league season with 106 points in the 2005–06 Football League Championship campaign. Reading then finished eighth in the 2006-07 Premier League, their first ever season as a top flight club.