Millwall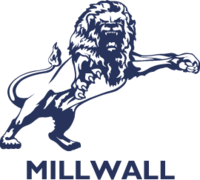 City: London
Stadium: The Den
Founded: 1885
Nickname: The Lions
Millwall Football Club (/ˈmɪlwɔːl/ or locally [ˈmɪɤɔo]) is an English professional football club based in New Cross, south-east London, that plays in the Football League One, the third tier of English football. Founded as Millwall Rovers in 1885, the club has retained its name despite having last played in the Millwall area of the Isle of Dogs in 1910. From then until 1993 the club played at The Den, a now-demolished stadium in New Cross, before moving to its current home stadium nearby, also called The Den.
The traditional club crest is a lion rampant, referred to in the team's nickname "The Lions". Millwall's traditional kit consists of blue shirts, white shorts and blue socks. Millwall have a long-standing rivalry with West Ham United. The local derby between the two sides has been contested almost 100 times since 1899. In the media, Millwall's supporters have often been associated with hooliganism, with numerous films having been made fictionalising their notoriety. The fans are renowned for their chant "No one likes us, we don't care" which is sung to the tune of Sailing by Rod Stewart.
In 2004, the team reached the final of the FA Cup and, in doing so, qualified for the UEFA Cup the following season, playing in Europe for the first time in their history. The club has also reached FA Cup semi-finals on another four occasions, in 1900, 1903, 1937 and 2013. Millwall have spent the majority of their existence competing in the second or third tier of the Football League. The team spent two seasons in the top flight between 1988–90, in which the club achieved its highest ever finish of tenth place in the First Division. Based on all results during the club's 87 seasons in the Football League from 1920–21 to 2013–14, Millwall are ranked as the 40th most successful club in English football.