Bristol City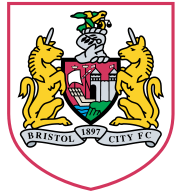 City: Bristol
Stadium: Ashton Gate
Founded: 1897
Nickname: The Robins
Bristol City Football Club is a football club in Bristol, England. Their ground is Ashton Gate, located in the southwest of the city. They currently play in the Championship after winning League One during the 2014–15 season. In sealing the League One title, Bristol City became only the second team to win both the third-tier championship and Football League Trophy double during the same season.
Bristol City won the Welsh Cup – despite being an English club – in 1934. In 1907 they finished runners-up in Football League Division One, which is their highest ever final position. In 1909 they lost the FA Cup final to Manchester United, their only final. Since relegation in 1911, however, they only returned to the top division from 1976 to 1980 and did not contend for any honours then. In 1982, Bristol City became the first English club to suffer three consecutive relegations. They were promoted to the Football League Championship in the 2006–07 season after finishing second in League One but failed to make a second consecutive promotion to the Premier League after they were defeated by Hull City in the 2008 Football League Championship play-off Final at Wembley Stadium. With victories in 1986, 2003 and 2015, Bristol City are now the most successful team in the Football League Trophy.
The club's nickname is "The Robins", and a robin featured on the club's badge from 1976 to 1994. Official club merchandise, including replica kits, still has a label showing a robin. An attempt by the club to alter the badge was abandoned after it was criticised fiercely by fans. The team's main rivals are Bristol Rovers in the Bristol derby and Cardiff City in the Severnside derby, along with other regional teams in the West Country derby.