Swindon Town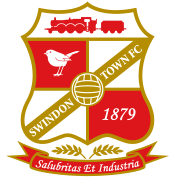 City: Swindon
Stadium: County Ground, Swindon
Founded: 1879
Nickname: The Robins
Swindon Town Football Club is an English professional association football club based in Swindon, Wiltshire. Founded as: Swindon AFC in 1879, Spartans in 1880 and finally Swindon Town in 1883. The club participates in League One, the third tier in the English football league system, in which it has spent 32 of its 87 League seasons (to 2014), with a further 30 in the former Division 3 South. The club's home ground, where it has played for 120 years since 1896, is the County Ground, which has a capacity of 15,728.
The club became professional in 1894 and entered the Football League in 1920. It has enjoyed periods of success, most notably during 1968–70, winning the 1969 League Cup by defeating Arsenal at Wembley Stadium and securing promotion to the Second Division. League Cup success earned the club its first invitations to European competitions, but they were not eligible to participate because they played in the then Third Division. So as compensation they were entered into the 1969 Anglo-Italian League Cup and the 1970 Anglo-Italian Cup, with Swindon winning both. These wins were led by the club's talisman winger Don Rogers. The South Stand was named after him from the 2007–08 season.
The club's two biggest victories were 10–2 over Norwich City on 5 September 1908 and 10–1 over Farnham United Breweries F.C. in the season of 1925–26, while the heaviest defeat was 1–10 against Manchester City in 1930.
Swindon Town won promotion to the Premier League during the 1992–93 season, the only time the club has played in the top level of English football. Swindon was the second team to win promotion to the Premier League via the play-offs, beating Leicester City. This proved to be Swindon's only season in the top flight to date, in which they conceded 100 goals. However, based on all results during their time in the Premier League and Football League up to 2010–11, Swindon are ranked as the all-time 47th most successful English football club domestically.